Below you'll find homemade game fixes and other relevant downloads for known problems. For example, there's a Fix to update your The Sims 3 game to the latest version of the game, without having to reinstall everything. This Fix is called our "The Sims 3 Ultimate Fix". It does not matter whether you've applied cracks or whether you've mixed up torrented games and original The Sims 3 games.
New fixes are added when needed, so be sure to check back here or visit our official "Fixes" pages on our Forum HERE.
Remember: instructions are always included!
– The Sims 4 Ultimate Fix (PC)
– The Sims 3 Ultimate Fix (PC) – Mirror
– The Sims 3 Ultimate Fix (MAC) – Mirror
– The Sims 3 "Store Fixes"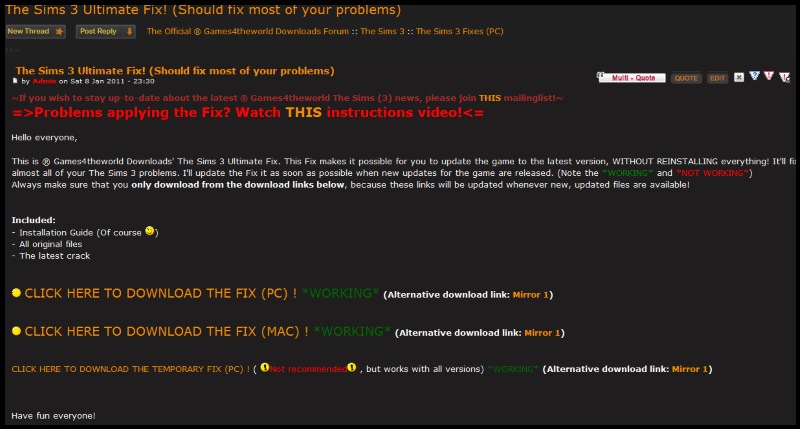 – The Sims 1 Creator "Please insert disc" fix – Mirror
– The Sims: Medieval Ultimate Fix (PC) – Mirror
– Mafia II health decreasing bug Fix (Click HERE for more information)
– Football Manager 2010 FIX (Fix for "Please insert game disc" error)
– Football Manager 2010 v10.3 FIX (Working crack for people who updated the game to v10.3)
– Football Manager 2010 v10.3 Patch only (Patch to update the game to v10.3)