On this page you'll find all items that are part of the The Sims 3 October 2009 Store Updates.
Click on the download button to start downloading the compressed .RAR file containing all Store Updates items from this month. You can open the downloaded .RAR file using WinRAR (download WinRAR HERE). Select all the files in the .RAR file and drag and drop them to folder on your computer. After that just double-click the .Sims3Pack file you want to install, and it'll

automatically open your The Sims 3 Launcher and install the item. If you want to install a lot of .Sims3Pack items at once, copy them all to (My) Documents\Electronic Arts\The Sims 3\Downloads   , manually open the The Sims 3 Launcher and navigate to the "Downloads" tab. Finally select all the items that you want to install and click on "Install". It will then install all the .Sims3Pack items at once.
Items in this month's Store Updates
---
Item name: afShoesVicBootsAnkle
Description:  The Adult booty heel is the perfect look for the steampunk or pirate gal.

---
Item name: afTopVicSteamPunk_YA
Description: The perfect top for any adult female. The color can go with anything.

---
Item name: amBodyVicUndergarment
Description: The adult male undergarment is made of shorts and long sleeve shirt combo. The outfit will be sure to keep other Sims guessing if the wearer is hot or cold?

---
Item name: tfBottomVicPantsRiding (Ballyhoo! Teens)
Description: Ready to ride across windswept moors or maybe just to the park? These svelte and comfy pants are equestrian and pedestrian friendly.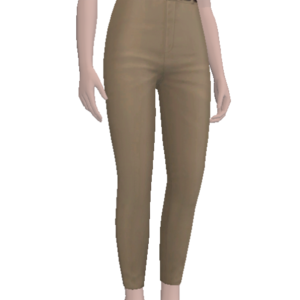 ---
Item name: tfShoesVicBootsAnkle (Booty Heel)
Description: Boots and heels goes together like apples and oranges.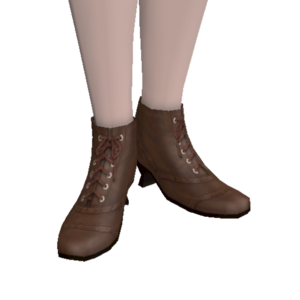 ---
Item name: amBodyVicUndergarment (cfBodyVicDressBow)
Description: A really cute pink bow-tied dress that any child would be happy to wear, well, except for boys!

---
Item name: amBodyVicUndergarment (cfBodyVicDressFluffy)
Description: A beautiful purple fluffy dress with light blue ribbon trims that any female child would just adore.

---
Item name: Thanksgiving_Fullset (Harvest Bounty)
Description: Decorate with the bounty of the harvest and celebrate the joys of autumn.
Includes the following items:
Thanksgiving Table Light
What better way to give thanks then to have a beautiful basket that is filled with festive autumn leaves, fruit and candles adorning your dinner table?
This lovely Thanksgiving table light will make a great conversation piece during the holidays with your guests.
Thanksgiving Floor Cart by Louie's Market
The Thanksgiving holiday is just around the corner and having this eye-catching floor cart on your lawn will make you look like you just had your very own harvest in your backyard!
Not only is this floor cart well made, it also includes seasonal hay, squash, leaves, and pumpkins, compliments of Louie's Market.
Thanksgiving Pumpkin Plant
Looking for a way to decorate your home for Thanksgiving? Why not give this unique Pumpkin sculpture a try!
The Thanksgiving Pumpkin plant includes not 1 but 3 pumpkins stacked on top of one another. This unique sculpture will surely "WOW" your guests during the holidays.
Thanksgiving Pumpkin by Angela's Designs
During Thanksgiving, everyone knows that pumpkins are pretty much going to be in every household. But what about a pumpkin with an adorable baby mouse on top of it?
Be one of the first to own this highly sought after pumpkin by Angela's Designs. It's undeniably cute and priced just right for any budget.
Thanksgiving Wall Shelf
Celebrate the Thanksgiving holiday and Fall season by placing this amazing shelf on your wall. This high quality wall shelf includes 4 bright pumpkins of various shapes and sizes.
The complementing greenery amongst the pumpkins will make your home look warm and festive.
Thanksgiving Wreath
It's that time of year again where we celebrate our families and friends, and all that we are thankful for.
So why not welcome your guests to your home with this beautifully crafted Thanksgiving Wreath?
It will definitely make your home look festive, warm, and inviting.

---
Item name: Steampunk_Savvy (Steampunk Savvy)
Description: Cut a dashing figure through space, time, and the probable with this collection of fashionable Steampunk outfits.
Includes the following items:
Steampunk Swashbuckler
What would a stylish steampunk swashbuckler wear? Dare to tackle adventure and necklines with this outfit.
Pandora
Life wouldn't be as fun without a little trouble. This is the perfect number for rocking out during the rough times.
Straight Shooter
Always shoot from the hip, especially when it is shots of sass and savvy.
The Side Buttoned Jeans
This classic style jean features a row of buttons on each side.
Carol's Shorts
Get in gear with these fancy shorts that comes with three buckles. You can also complete this set with Carol's Tanktop.
Jailer's Shorts
You won't be able to let others escape from their cell while wearing these shorts.
Carol's Tanktop
Get in gear with this fancy tanktop that comes with leather straps all around. You can complete this set with Carol's Shorts.
Ivana
Sometimes it requires a lot more that gumption, sometimes it take style and a dollop of will.
Lealani
A complete combination of out of this world style and fashion.
Ms. Professor
Respect is given where it is most deserved. Respect is given when wearing Ms. Professor.
Gentleman First
Only the finest tailoring from Messrs. Mal & Malcom Clothiers.
Handy Hero
Foil nefarious plans to dominate the world, repair broken steamships, or maybe just fix a leaking toilet with complete confidence and swagger. Cape not included.
Rough Writer
The pen is indeed mightier than the sword and a writer needs to keep their diary and writing implements with them at all times.
Vest and Goggles
A handsome vest with scarf and goggles.
Pandoraette
Life wouldn't be as fun without a little trouble. This is the perfect number for rocking out and staying out past curfew.
Jailer's Shorts Teen
You won't be able to let others escape from their cell while wearing these shorts.
Borderline Teen
Is this borderline beautiful or borderline gorgeous? It's definitely not borderline dull!
Carolina's Tanktop
Get in gear with this fancy tanktop that comes with leather straps all around.
Ivana Teen
Sometimes it requires a lot more that gumption, sometimes it take style and a dollop of will.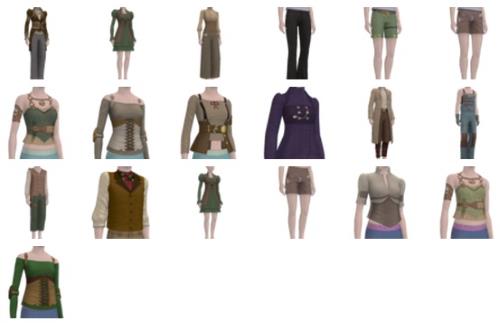 ---
Item name: Steampunk_Return (The Return)
Description: During the age of lasers and steam-powered trains there were mechanical high-end personal 'electronics'. Glory in the power of clockwork!
Includes the following items:
Anachronism VCT
Have you ever wondered what it'd be like to move through time like a knife through butter?
With the Anachronism VCT laptop, you get a small taste of the world that would await you on the other side of the looking glass.
Blown Away, with frame
The whimsical, if subtly disturbing, painting Blown Away is found in many trendy shops nowadays.
However, this is the only replica frame that duplicates the way the painting was originally presented when it was commissioned as a promotional piece for the Sims World Fair.
Most collectors agree that it is the only true way to display a piece this historic in your home.
Model Simoetrope
For the discerning collector, this is a must-have scale model of the enormous Simoetrope that debuted at the historical Sims World Fair.
Take home this detailed recreation of the machine that projected moving images three stories tall and scared many attending Sims!
This model features no moving parts to prevent any possible fright from occurring.
Greaves' Writing Set
You can now be a part of history with this colonial writing set that includes: A piece of parchment paper, a quill pen, and a metal inkwell.
The Benet Phonograph
"A life without music is a life without life."
These were the eternal words that began Victorian countess Lady Benet's letter that she sent out in search of the greatest music player ever to be created.
The winner of this classic challenge has been recreated, down to the last detail, in this phonograph. Go ahead, give your ears the royal treatment.
Stelevision Model V1
A functioning prop from the popular miniseries "Jump Gate," these Stelevisions were used throughout the alternate reality that the series presented
and were often used as communication devices.
SMC has repurposed these props as working televisions that will, hopefully, serve your home as well as they did dimensional traveler Sam Kronos.

---
Item name: cmBodyVicPeacoat (The Ambassador's Assistant)
Description: Suit up and learn to be presentable with this formal wear outfit. Perfectly suited for growing boys learning to take charge.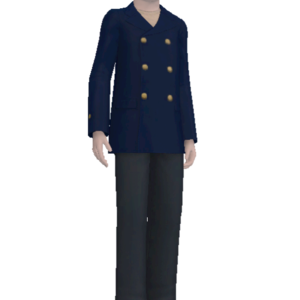 ---
Item name: afhairponytailbig (The Lucky Charm)
Description: Being lucky has nothing to do with wearing something good. If just feels that way.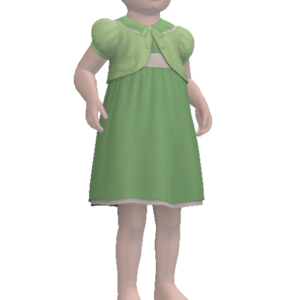 ---
Item name: cmBodyVicFauntleroy (The Polite Boy)
Description: Every boy deserves to where one of these in their lifetime. They'll be sure to be on their best behavior.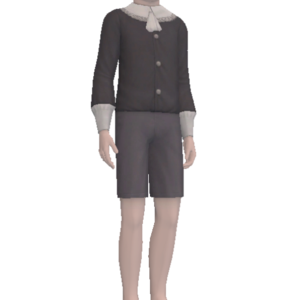 ---
Item name: pfBodyVicDressApron (Tot's Apron)
Description: A dress made to get dirty. Nothing can stand between this toddler and the mess.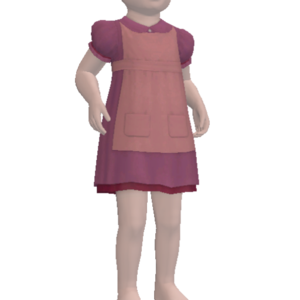 ---
Item name: WorldGoodies_Fullset (Worldly Goodies)
Description: Some people say you can't take it with you when you go but we say you definitely can bring it back with you from wherever you've traveled.
Includes the following items:
The Traveler's Limited Edition Alarm Clock
This simple and extremely limited alarm clock will complement any home.
This clock features a high quality digital display and beautiful photos from around the world on the back of the casing.
Purchasing this clock will surely bring back memories of all of your exciting travels.
The Great Beijing Floor Lamp
This Asian-inspired floor lamp will bring a distinctive Asian style to your home decor.
The stylish base complements the beautiful floral patterned lamp shade. This unique and eye-catching floor lamp will surely brighten up your home.
The Traveler's Choice Hat Box (Round Version)
This sturdy round hat box is built to last and is available in supple leather or high quality metal.
Its distinct metal lock and leather handle add to its charming character. Why not place this fancy hat box in your room?
It is, after all, the "Traveler's Choice" and rated the #1 Round Hat Box by Sim Traveler's Magazine.
The Traveler's Choice Hat Box (Box Version)
This Hat Box is designed by the same makers that created the popular Round Hat Box.
You can choose either a high quality leather or sturdy metal surface. The craftsmanship is quite impressive.
In addition, all Traveler's Hat Boxes come standard with a durable round handle. So if you're in the market for a Hat Box, look no further!
Beijing Incense Burner
This lovely sculpture is hand crafted by the most skilled porcelain makers in Beijing, China. Its vivid lavender color is soothing and elegant.
What a perfect way to compliment your table and home! You can almost smell the Asian fusion aroma from the burning incense