On this page you'll find all items that are part of the The Sims 3 September 2011 Store Updates.
Click on the download button to start downloading the compressed .RAR file containing all Store Updates items from this month. You can open the downloaded .RAR file using WinRAR (download WinRAR HERE). Select all the files in the .RAR file and drag and drop them to folder on your computer. After that just double-click the .Sims3Pack file you want to install, and it'll

automatically open your The Sims 3 Launcher and install the item. If you want to install a lot of .Sims3Pack items at once, copy them all to (My) Documents\Electronic Arts\The Sims 3\Downloads   , manually open the The Sims 3 Launcher and navigate to the "Downloads" tab. Finally select all the items that you want to install and click on "Install". It will then install all the .Sims3Pack items at once.
Items in this month's Store Updates
---
Item name: 16000SimpointBundle811Set
Description: N/A
---
Item name: HalloweenSet2011Set
Description: N/A
---
Item name: mirrorWallHalloweenWeb
Description: N/A
---
Item name: mirrorWallMusicGuitar
Description: N/A
---
Item name: sculptureTableHalloweenCake
Description: N/A
---
Item name: sculptureTableHalloweenGhost
Description: N/A
---
Item name: sculptureWallHalloweenSkull
Description: N/A
---
Item name: Sept2011Set (September 2011 Compilation)
Description: Get the Hollywood Regency Den, Viva Las Vegas Living, Boho Vintage Women's Collection, and Happy Halloween: Gory Goodies sets at a special price with just one click!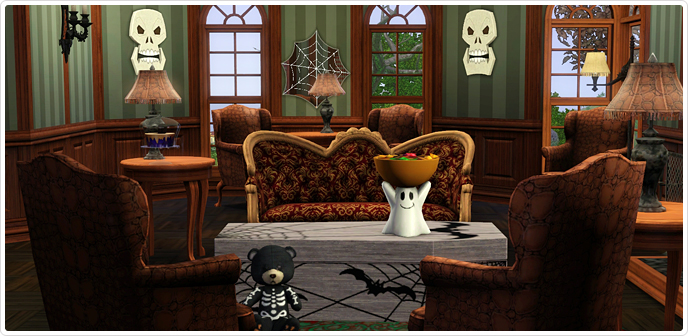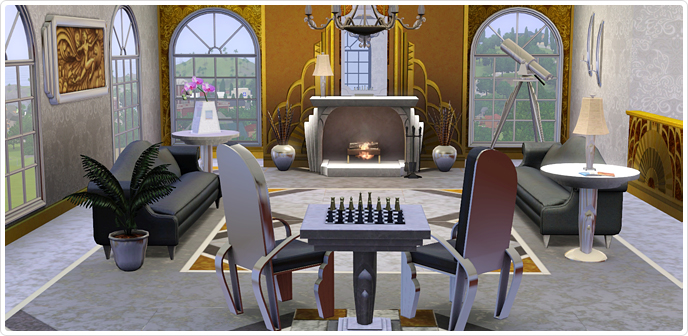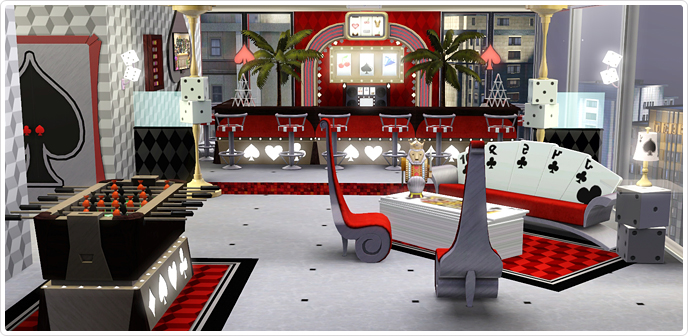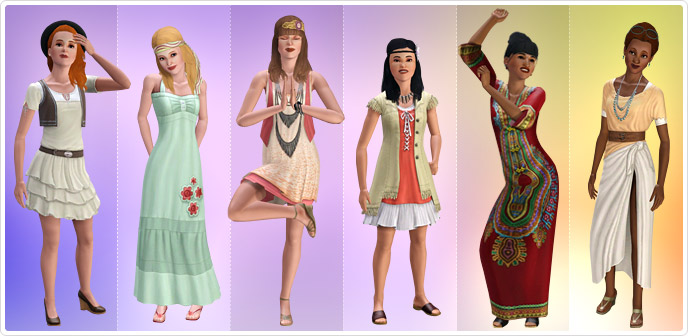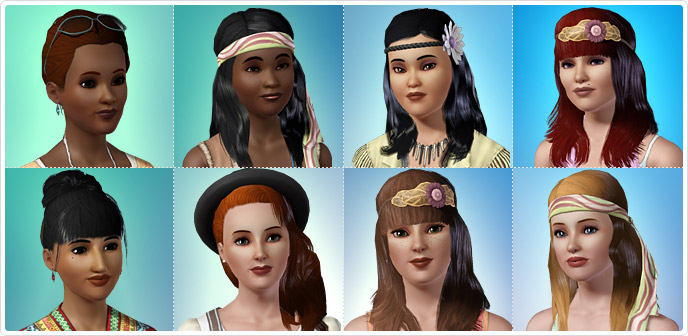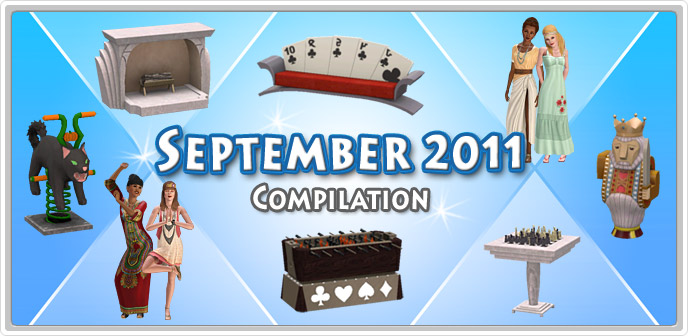 This set includes the following items:
Moe P. Cuddlebones
Moe P. feels a little sad that no one wants to hug a skeleton teddy. Prove this skully pile of fluff wrong and give him a cuddle.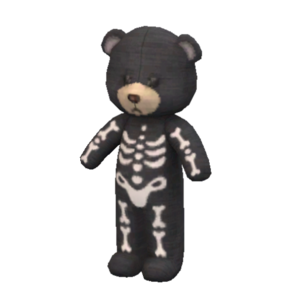 De-coffinated Table
Try not to disturb those who are at rest as you place your clutter items upon the lid of this morbidly multi-tasking casket. Just a piece of advice.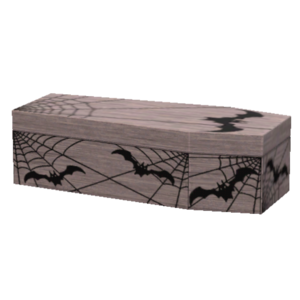 Grinning Grimmy
Fiendishly frightening or totally terrifying?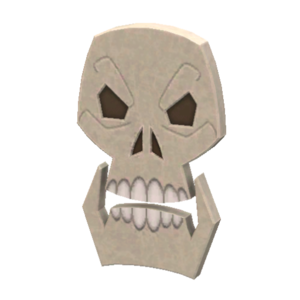 Specter Sweets
A tiny specter offers you treats in exchange for mean little tricks!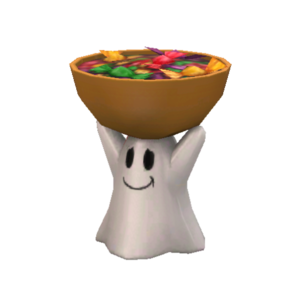 Deathly Decadence
Do you dare to indulge yourself on a slice of spooky sweets?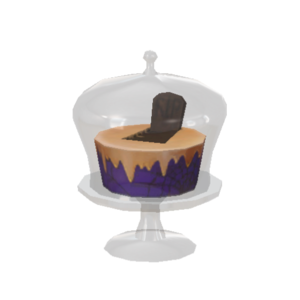 Web-O-Wonder
A web-tastic mirror not advised for the highly arachnaphobic. Will you gaze upon the mirror and have your face entagled in its reflective web?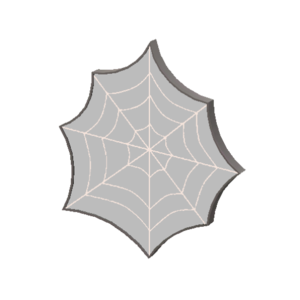 Boho Teen Lacy Top
A bikini style top with ruffles, over a tank top; a balance of appeal and modesty!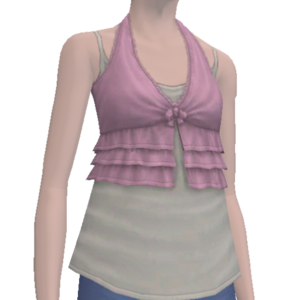 Boho Teen Slip
Teen Slip Dress with a suede mini vest – for when you want a cute vintage vibe!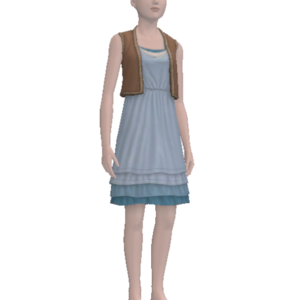 Vintage Smock
A cute vintage smock for your child.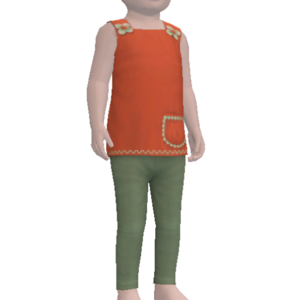 Crafty Patches
Updated fabric patches breathe new life into this vintage skirt.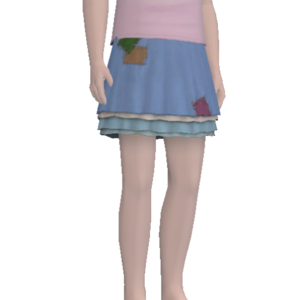 Boho Lacy Top
A bikini style top with ruffles, over a tank top; a balance of appeal and modesty!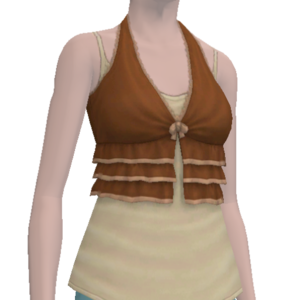 Boho Bell Blouse
A retro loose blouse top with poofy sleeves!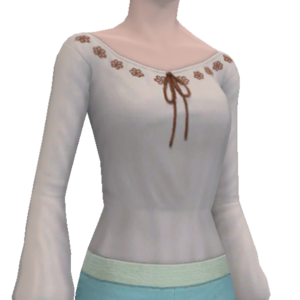 Zoe's Do
A bun with straight bangs.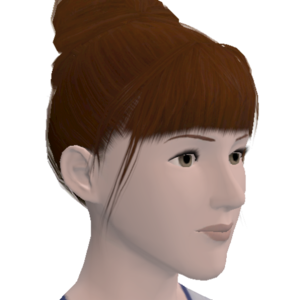 Derby Delight
You can't deny the cuteness of a derby hat!

Headband Hip
Show off your natural long hair! Add in a long and loose headband and just groove!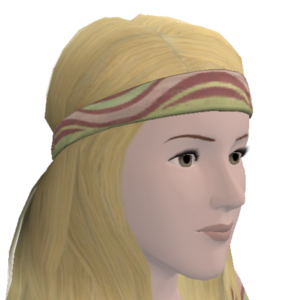 Candy Do
Jazz up the classic bun with a pair of sunglasses!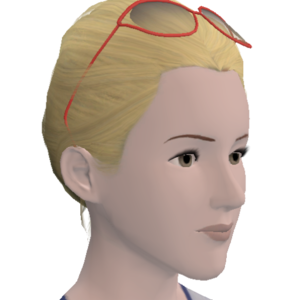 Braided Band
Simple Long hair with a braided band and flower.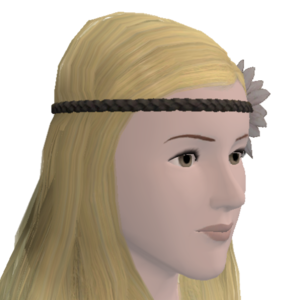 Flower Child
Bangs accentuated with a flower headband – you're good to go for that song circle, or open-air concert!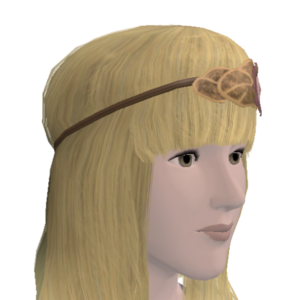 Patches
An old skirt, turned new, with some patches to add a personal touch! Top it off with a loose blouse, and you're set!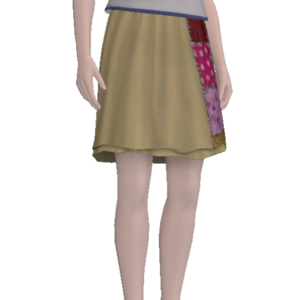 Summer of '68 Hot Pants
Show 'em off! These short shorts never go out of style!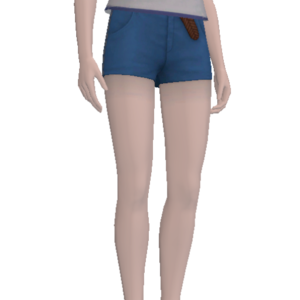 Boho Crafty
Sometimes, nothing at the stores catch your eye – that's when you got to let the creative side of you come out and create something that says you!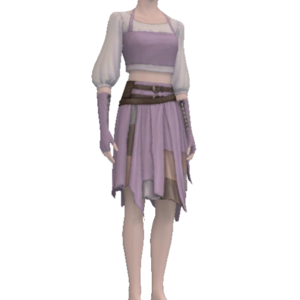 Mermaid Sarong
A modern take on a sarong with a light blouse top – the material is light to keep you cool, and thin enough for it to be pinned and folded to give a layered look.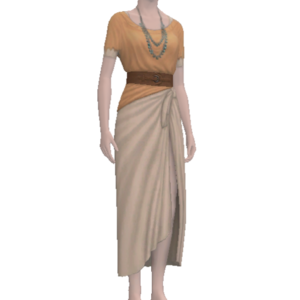 Mohica
A leather fringe jacket, and an 'A-line' dress. The vertical forms of the necklace compliment the lace-up front slip dress.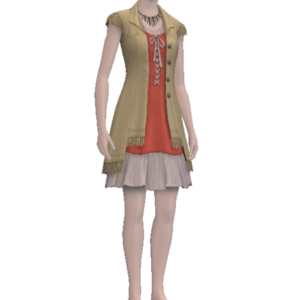 Downtown Boheme
A mini dress with a Native American style necklace and a petite vest. Complete it with a pair of boots and head out and be seen!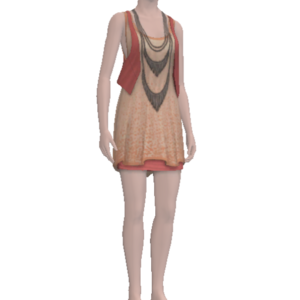 Little Anne
A layered mini dress with ruffles, and a light vest. Try it with that cowboy hat and boots you've been wanting to wear!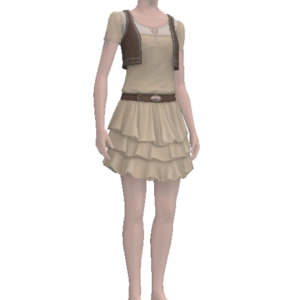 Boho Flapper
A "flapper" style dress, featuring ruffled layers around the waist.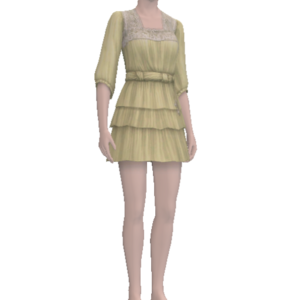 Boho Sun Dancer
Bows give this playful sun dress some volume by creating accenting bunches of fabric.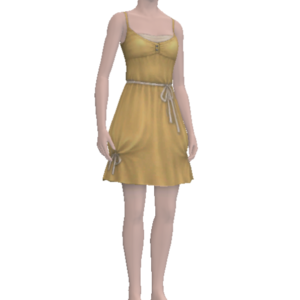 Boho Slip
Slip Dress with a suede mini vest – for when you want a cute vintage vibe!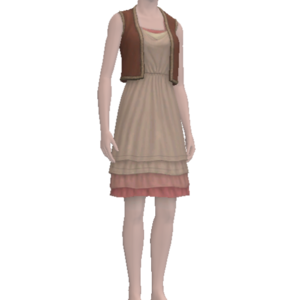 Floral Summer
A long sun dress with floral accents that goes perfect with a wide brimmed hat. Bike to lake, or stroll downtown and get ready to catch some eyes!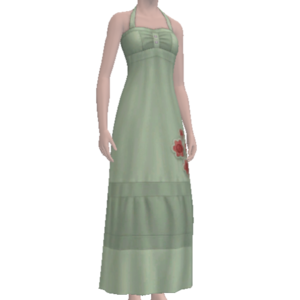 Sagittarian Dream
Loose and airy, this dashiki is perfect for women wanting to express personal hipness!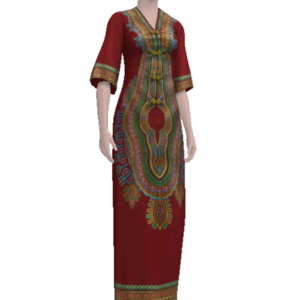 Griffons Telescope
A brass telescope from Griffons, maker of antique replicas, features fine acid etching detailing. Place it in your den or living room as a decorative piece, or use it to scan the cosmos. Who knows, you may find a planet they'll name after you!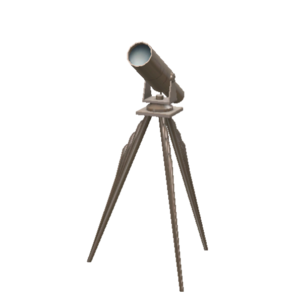 Uptown Table
This petite, hand-crafted, maple table is great for small spaces. Details like the "stepped" pattern of the tabletop layers display its style origins.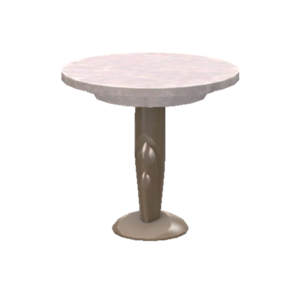 Ascension is Paramount
Strong lines, heavy stylization with emphasis on shapes, and patterns. This original Piet Weaz relief is a prime example of an era with concern for designed forms over life representation. Indulge yourself and add this piece to your collection as it is bound to catch the gaze of your guests with its sophistication, and evoke admirable comments.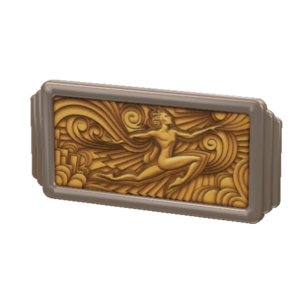 Narcissa Mirror
Admit it, you love to look at yourself. But if you must gussy up, you may as well use a mirror as fabulous as you.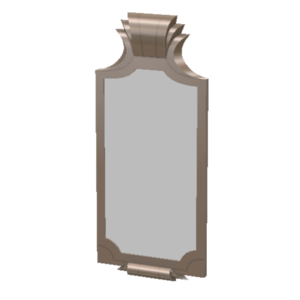 Asymmetrical Allessandar Table Lamp
Designed by the Allessandar Cerbo herself, this elegantly crafted column table lamp will provide the perfect mood lighting. The asymmetrical style reflects superb workmanship and attention to detail.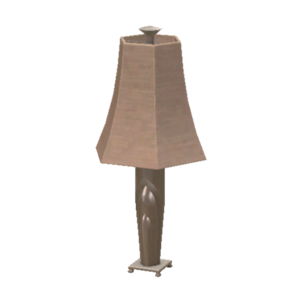 Glitz & Glamour Fireplace
Relive Hollywood's Golden Age with a modern twist! The over-the-top style design will be a great conversational piece.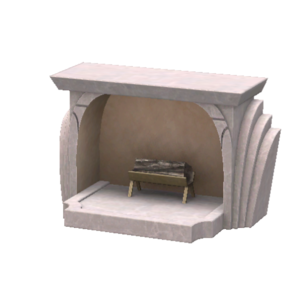 Le Ecoute Moderne Chess Table
This contemporary designed chess table epitomises all the glamour of Hollywood. Le Ecoute Moderne Chess Table melds vintage design with a present-day look to produce a one-of-a-kind furniture piece.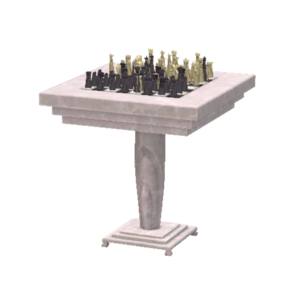 Faux Chrome Chair
Feel more like a celebrity while dining on the Faux Chrome Chair. Your Sim will reach new heights of fame in this stunning vintage piece.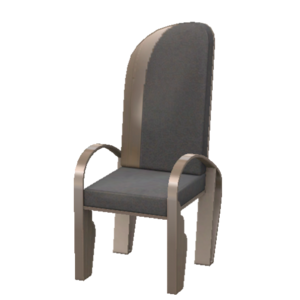 Feelin' Lucky
Be wed to your sweetheart under this arch full of the neon rush of the casino! Quick and hassle-free happiness guaranteed!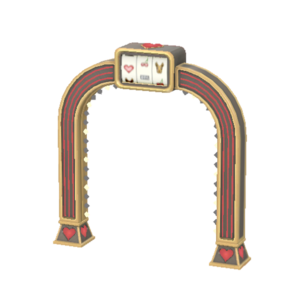 Visions of Grandeur
What do Shiny Things Inc's "Reality-Definition" flat screen and a spade have in common? Both represent the highest rank in their respective domain. Combined, this device provides an experience that converts time into unadulterated fun for you and your select group of friends. The positive social ramifications from exposure to this experience cannot be denied.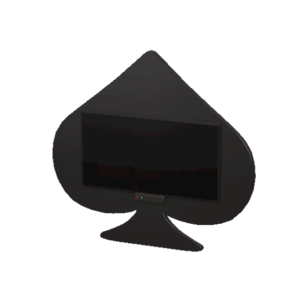 On the Rocks
What do you get when you take giant novelty dice, and a tempered glass surface? You get a serious end table for the serious casino enthusiast.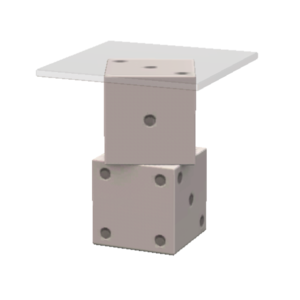 Bridging Conversations
This is no flimsy table of cards, oh no! This table is made of solid oak, with an ample surface for all your knickknacks. This table is decorated through a patented fifty-two layer enameling process, and finished off with clear coat. Surely, this table will inspire conversation, or even new connections between Sims.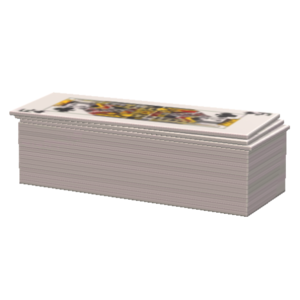 Ante Up the Volume
After you win big, gather your friends for the loudest, rowdiest, after party ever! It's never a gamble to have this stereo bumpin' pure fun out of its ace speakers! Dance your legs crazy all night – you'll be at the top of every Sim's social list!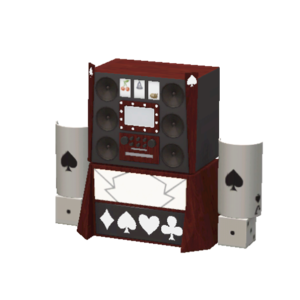 Royal Plush
This sofa is sure to win you over not only with its satiny looks, but also its comforting qualities. Relax and get off your feet after a long night of winning, and be energized for more!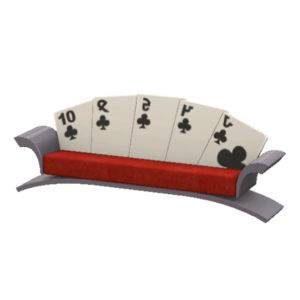 Clay's Collection
For the discerning player that wants to display their poker mementos from battles past. Stained mahogany frame, velvet inner lining.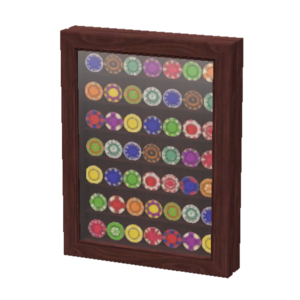 Playing with Trumps
A card tower need not be a temporary spectacle anymore! Show off a triumphant card tower to your friends all the time, without fear of it collapsing!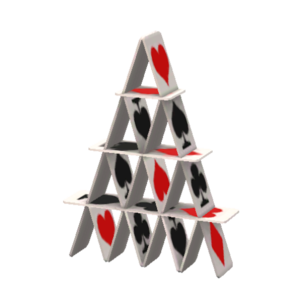 Ace in the Palm
For professional or casual card players who want their décor to reflect their favorite pastime or career, this palm and playing card motif vase is a winning pair!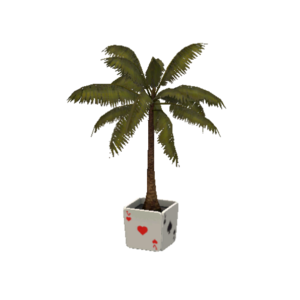 Payline Print
This painting may not display a jackpot but it's still a fine work of art.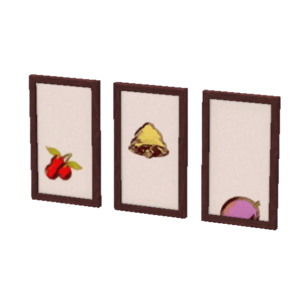 Primpin' Player
Every card shark needs to have a commanding and intimidating presence. Make sure you look glamorously aggressive with this mirror before you hit the poker tables to feed.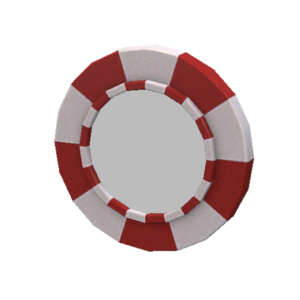 Joy of Jackpots
Shiny Things Inc. captures that fleeting moment when you realize you've hit the jackpot in this wonderful lighting fixture!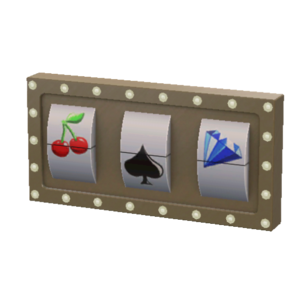 Suits a Party
A perfect light, and decorative companion to a bar, club, or even your personal game room! Say "Exclusive" without uttering a single word.

Chances Look Bright
You just can't lose with this lamp at your side.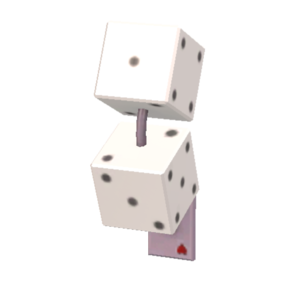 Luck Be a Light
Luck is on your side with this themed lamp – restored wheel spinner body, polished brass finish for high shine, and a playing card inspired lamp shade to keep the lighting dim and intimate.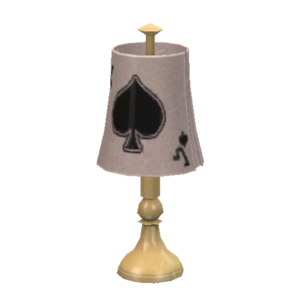 Char-le-Gnome
The Char-le-Gnome ornament adds a regal, but playful touch to any casino or card shark's home.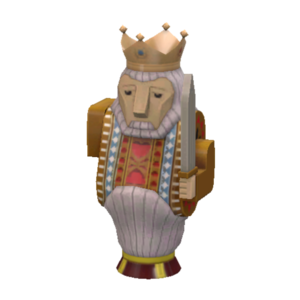 Playing for Keeps
Guests visiting your penthouse need entertainment! Chat, laugh, and challenge them to a high stakes game with this custom foosball table.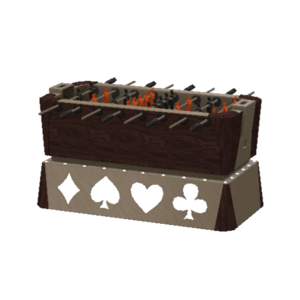 VIPs This Way
Don't walk through just any door! Build this into your home to give you a VIP entrance to any room, anytime.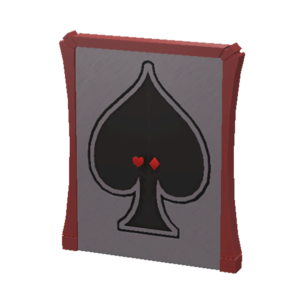 High-Low Column
High Rollers need décor that represents their lifestyle. This column 'speaks' to them and says, "Don't worry boss, I'm holding up the fort for ya."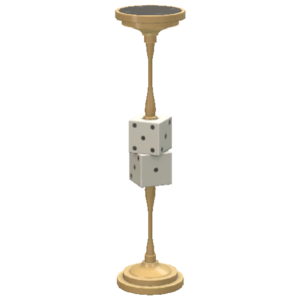 King of Suede
Taking cues from the head-turning power of the classic stiletto heel, this latest lounge chair from famed designer Rhoda Lyn is guaranteed to caress you in comfort, and make your home exude an aura of envy."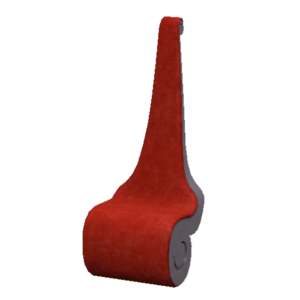 Juice on the House
Bright lights? Check. Card Suit Embellishments? Check. Waypoint on the map for all sims looking to quench their thirst and perhaps meet a mysterious stranger? Check and double check!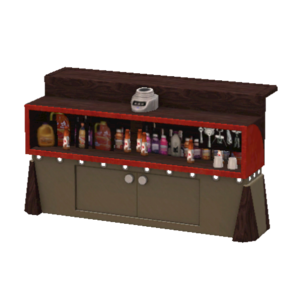 Winner's Spot
Whether you've just won the jackpot, or you're down on your luck, always feel like a winner while sitting on this seat!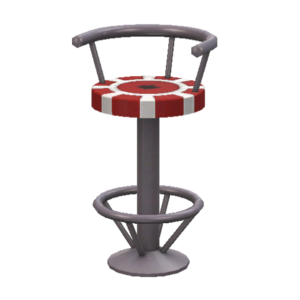 Witchin' Spring Ride
Common superstition says that black cats are bad luck, but if people had a chance to ride one, they'd find out that black cats are loads of fun!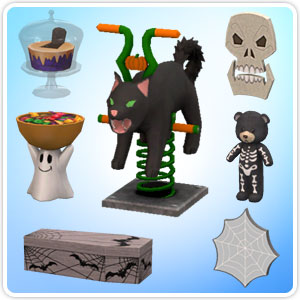 ---
Item name: springRiderHalloween (Witchin' Spring Ride)
Description: Common superstition says that black cats are bad luck, but if people had a chance to ride one, they'd find out that black cats are loads of fun!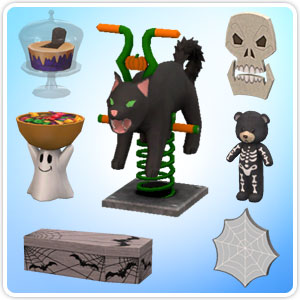 ---
Item name: tableCoffeeHalloweenCoffin2x1
Description: N/A
---
Item name: teddyBearHalloweenBones
Description: N/A
---
Item name: windChimeMetal (Warbling Wind Chimes)
Description: Kick back and relax with the soft melodic charm of these beautifully hand-crafted wind chimes. Guaranteed to spin and dance in even the slightest breeze, these chimes will delight and fascinate Sims of all ages!