On this page you'll find all items that are part of the The Sims 3 July 2012 Store Updates.
Click on the download button to start downloading the compressed .RAR file containing all Store Updates items from this month. You can open the downloaded .RAR file using WinRAR (download WinRAR HERE). Select all the files in the .RAR file and drag and drop them to folder on your computer. After that just double-click the .Sims3Pack file you want to install, and it'll

automatically open your The Sims 3 Launcher and install the item. If you want to install a lot of .Sims3Pack items at once, copy them all to (My) Documents\Electronic Arts\The Sims 3\Downloads   , manually open the The Sims 3 Launcher and navigate to the "Downloads" tab. Finally select all the items that you want to install and click on "Install". It will then install all the .Sims3Pack items at once.
Items in this month's Store Updates
---
Item name: arcadeMachineUnicorn (Hi-yo Candy Mountain Rangers, Away! Arcade Machine)
Description: This arcade game was released as a bonus gift when players purchased SimPoints through The Sims 3 Store in June 2012.
Note: requires game update 1.5.0.015000 to work.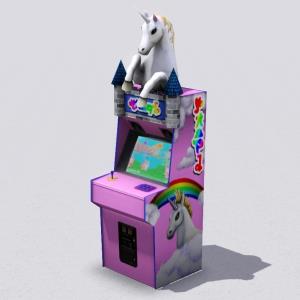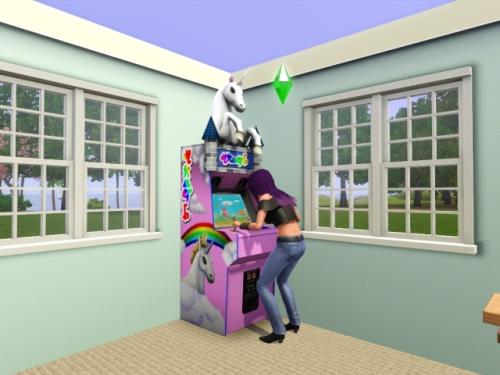 ---
Item name: arcadeMachineZombie (Outbreak: Zombie – Attack of the Braaainzzz!! Arcade Machine)
Description: This arcade game was released as a bonus gift when players purchased SimPoints through The Sims 3 Store in June 2012.
Note: requires game update 1.5.0.015000 to work.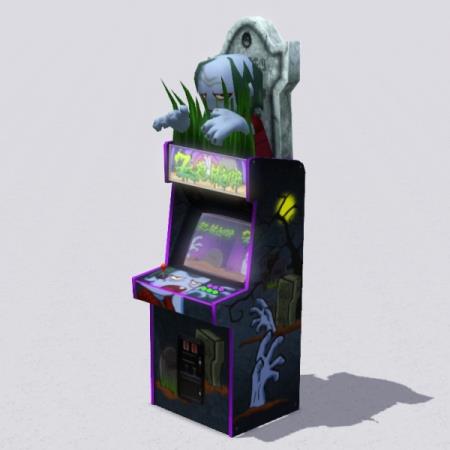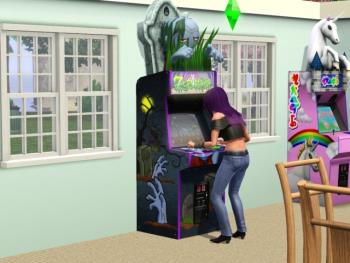 ---
Item name: LuckyPalmsStandard (Lucky Palms Standard)
Description: Rest and relaxation is the name of the game at The Sims 3 Lucky Palms! With ample parks, recreation locales, and a thriving culinary scene, you'll find yourself on an oasis of green amid shifting sands. This desert enclave offers manicured gardens, modern estates, and cozy abodes nestled on the banks of a pristine lake. At the heart of town lies a mysterious well that is said to grant wishes to those who are pure of heart…. what will you wish for?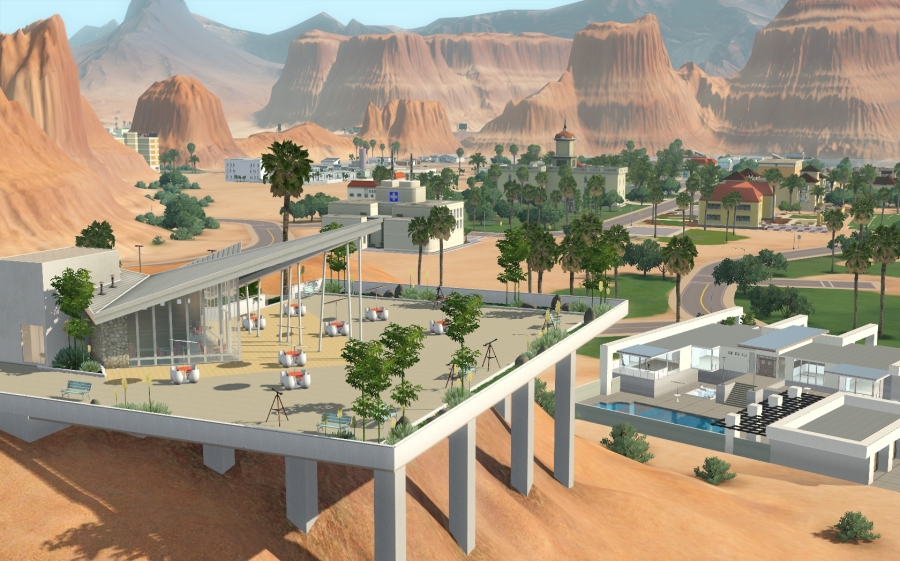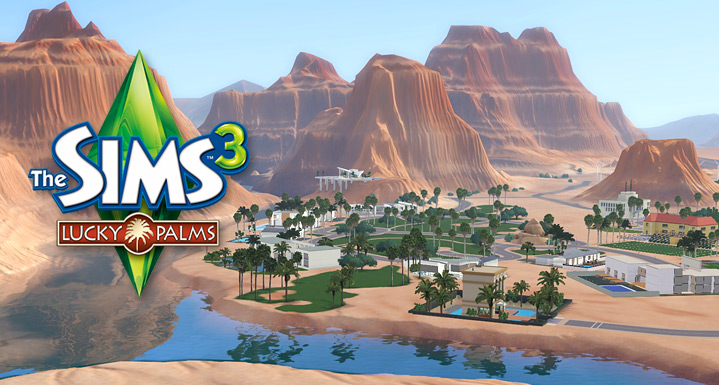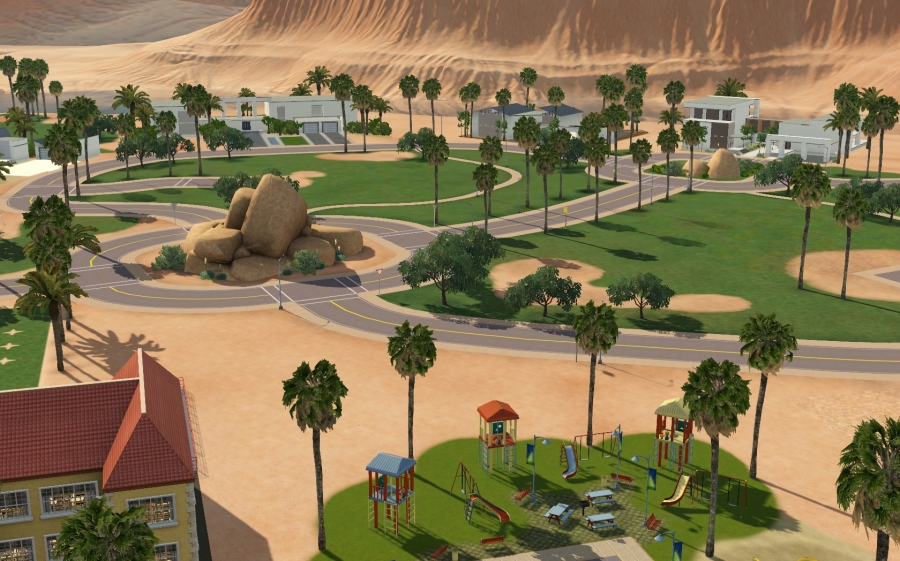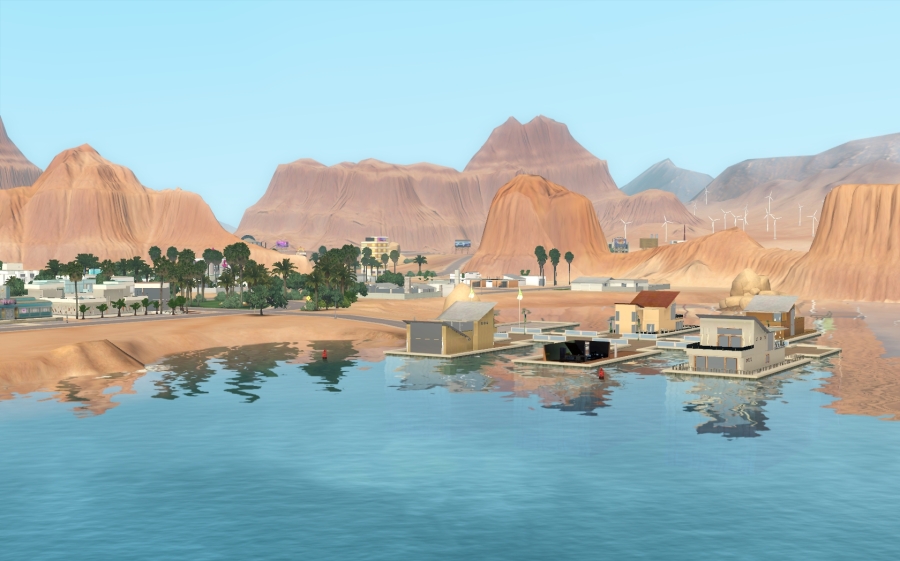 Includes the following Premium Content:
Wishing Well
Armed with an ancient treasure map, three brothers made their way across the desert and found the fabled well of wishes! The first brother wished for wealth and he was showered with gold. The second brother wished for power and when he returned home he was appointed the mayor of his town. The third brother wished for love, met the girl of his dreams, started a family, and founded a town near the well that survives to this day.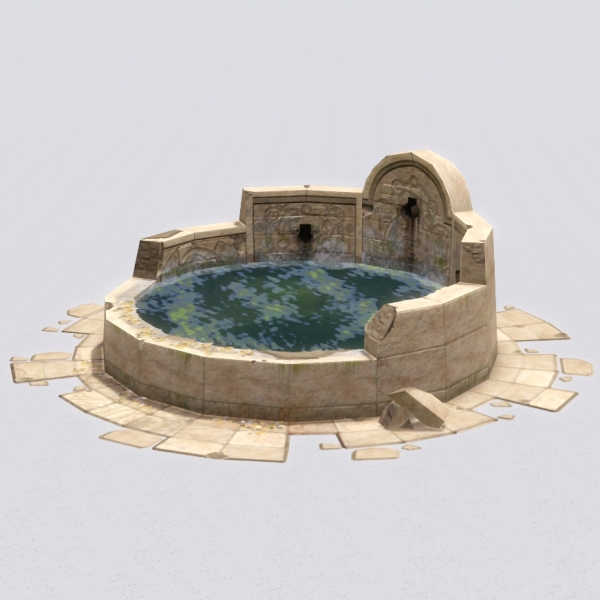 Note: requires game update 1.5.0.015000 to work.
NOTE: requires the "Store Fixes" to work correctly.

---
Item name: luxresortattireset (Luxury Resort Attire Set)
Description: Get all the latest fashions for this world and any other world you might eventually encounter in this exclusive set! Show your Sim a taste of the finer things in life!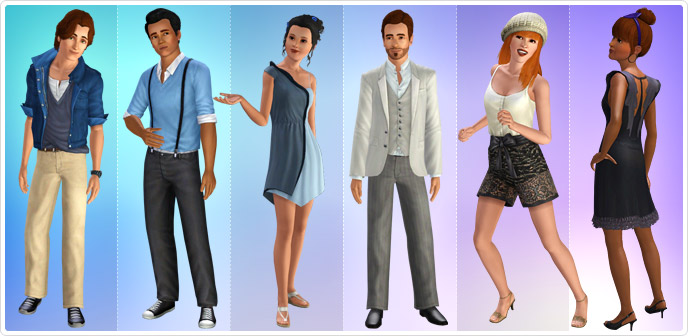 Includes the following items:
Teen Suburban Nights
This shirt is absolutely perfect for a crazy and youthful suburban night, don't you think?

Teen Lacey Retreat Romper
Don't let the adults have all the fun, now your Teen Sim too can relive the glory days of the Romper!

Monster Mash Beanie
Is your little Sim a little monster? Roar your way onto the playground with this new Monster Beanie!

Rosy Cheeked
Is your Sim getting a little rosy cheeked? Better bundle them up for those clear and cold skies!
Sweeter than Flowers
Is your little Sim too sweet for words? Show the world how sweet they are with this flower headband!

The Undone Gentleman
Are you a gentleman? Yes? Do you like ties? No? Ah, unfortunate! Then you will forever seem just slightly undone…

Suburban Nights
This shirt is absolutely perfect for a suburban night, don't you think?

Riddled Waves Front
Too intimidated by a head full of waves? Keep it to the front only with this hair.

Riddled Waves
Hit the beach and look good doing it with this wavy hair!

Clean and Crisp
A smart looking hair for a smart looking Sim.

Sweetly Swept Back
An excellent addition to any Sim's cranium! Sweep your hair back sweetly today!

Bundled Up Beanie
Bundle up for those clear and crisp days with this beanie.

Nerd Chic
Feel like your pants need some extra support? Love the stylish addition of suspenders? Well wear them loud and proud.

Slim Fit Legs
Want to show off your Sims sexy ankles? How about their manly calves? Well this outfit has got you covered! You'll definitely be turning heads.

Pumped Up Pom Pom Hat
Nothing is better than a pom pom on your hat….except maybe…TWO pom poms on your hat!

Pert Pixie Cut
Looking for the perfect cut to take your Sim to the next magical level? Power up with this pert pixie do!

Bound Up Bows
Every Sims hair is a gift to those lucky enough to see it! Tie yours up with a bow and present it like the gift it is!

Bountiful Beret
If there's one thing this beret is, it's definitely bountiful.

Lacey Retreat Romper
The Retreat Romper not adult enough? Ratchet up your age levels with the addition of lace! Careful though, this one isn't as durable as the Retreat Romper and is prone to snagging on prickle bushes.

Jill's Jumpsuit
Are you like me and too lazy to spend hours trying to match your shirt to your pants? Well then jumpsuits are the answer! Never again waiver between decisions, or hover upon the edge of fashion faux paus. This jumpsuit will keep you and your Sim at the edge peak of efficiency and style.

Soar Away Dress
The back of this dress holds a mighty surprise, pity it won't actually help you fly away…

Born Beautiful Dress
This dress takes what existed naturally and enchances it even further. Show your beauty off to the whole world with this stylish number.
Note: requires game update 1.5.0.015000 to work.
---
Item name: OnceUponATimeSET (Once Upon A Time Set)
Description: Evil step-sister's keeping you down? Sneak away to this charming new set from the Fairy Tales Do Come True collection.
Includes the following items:
Quaint Kitchen Counter
Quaint Kitchen Island Counter
Just Right Dining Chair
Woodsman's Chair
Quaint Dining Chair
Quaint Kitchen Ice Box
Porridge Prep Wall Shelf
Quaint Kitchen Sink
Quaint Cooker Stove
Quaint Cottage Dining Table
Quaint Cottage Window
Need a new, charming look for your kitchen? If so, use this beautiful set to turn it into something you would find described in fairy tale storybook.
Happily Ever After Bookshelf
Stroke of Midnight Clock
Knocks in the Night Door
Jack Be Nimble Floor Light
Jack Be Quick Table Candle
Quaint Kitchen Hood Lamp
Guiding Light Lantern
Pauper Pedestal
Gathering Wood Sculpture
Treats for Granny Sculpture
Better than Golden Eggs Sculputure
Stories and Caps Wall Shelf
Wisely the Owl Sculpture
Quaint Cottage Sofa
Quaint Cottage Coffee Table
Have you ever wished that you could leave your troubles behind and be whisked to a world far, far away? If so, you're in luck! This magical set will make you feel like you're in a whole new world!
Included clothing:
Maid Merry Dress
Frolic Away Dress
Pretty Princess Dress
Inside, A Princess Dress
Humble Ball Gown
Original Peasant Top
Hero's Journey Outfit
Market Square Outfit
Pauper Hides a Prince Outfit
Village Boy Life Outfit
Village Girl Outfit
Woodsman's Jacket
Included hairstyles:
Forest Flowers Hairstyle
Heroic Hair
Made By Elves Hat
True Romance Hairstyle
Village Life Hairstyle
Begin your story of rags to riches with this enchanting new set reimagined from classic fairy tales.
Note: requires game update 1.5.0.015000 to work.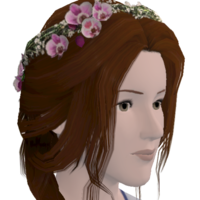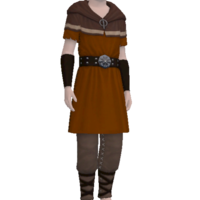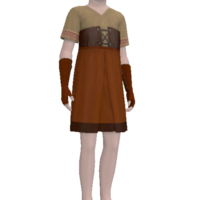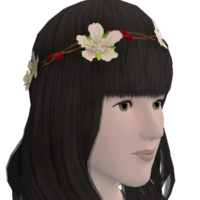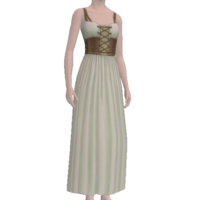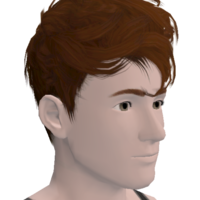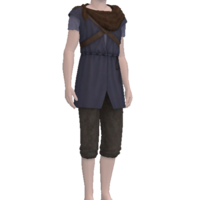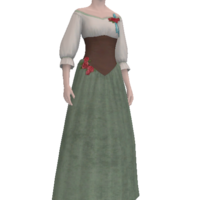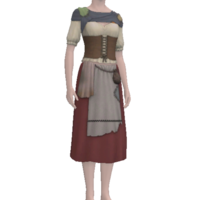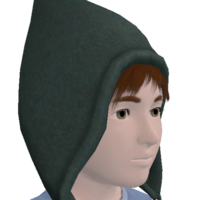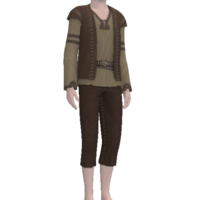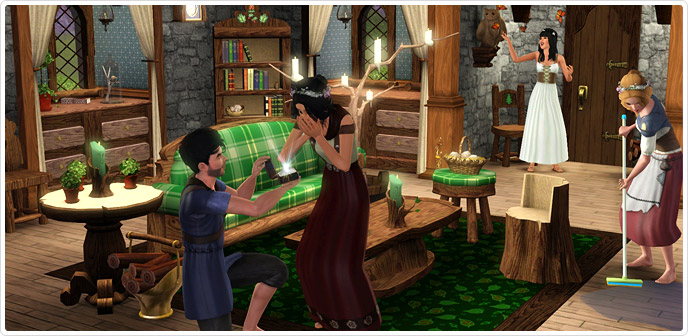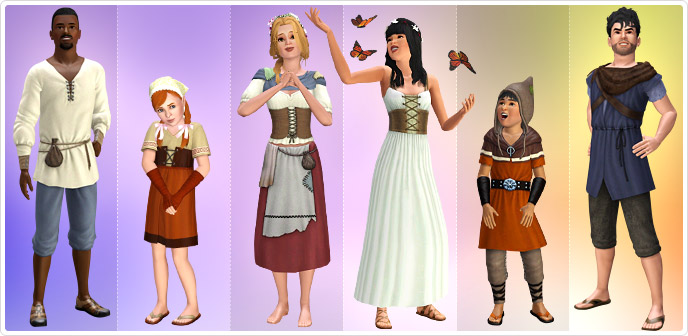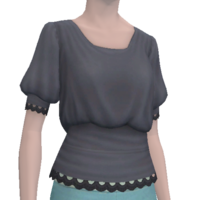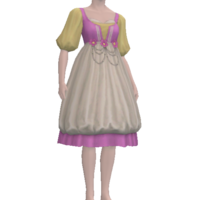 ---
Item name: paintingPosterIcecreamKP
Description: In April of 2012 The Sims 3 Store released special SimPoints bundles in anticipation of the upcoming June Sweet Treats release. At the end of May the Katy Perry Poster was made available as a free download from the store.
Note: requires game update 1.5.0.015000 to work.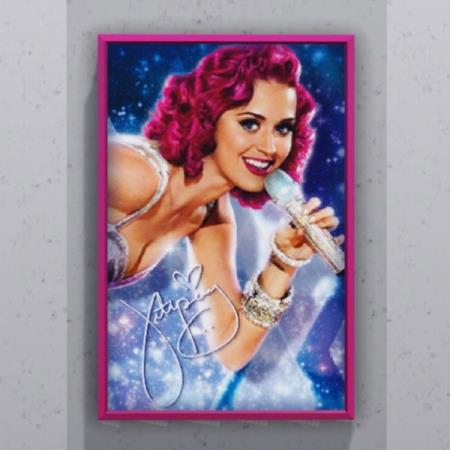 ---
Item name: SPBcactusSet (Perfect Prickers Set)
Description: A new SimPoint bundle was released in the store to promote the upcoming Lucky Palms world.
Included as the bonus item when purchasing the bundle was a set containing the following three plants.
Note: requires game update 1.5.0.015000 to work.