On this page you'll find all items that are part of the The Sims 3 March 2011 Store Updates.
Click on the download button to start downloading the compressed .RAR file containing all Store Updates items from this month. You can open the downloaded .RAR file using WinRAR (download WinRAR HERE). Select all the files in the .RAR file and drag and drop them to folder on your computer. After that just double-click the .Sims3Pack file you want to install, and it'll

automatically open your The Sims 3 Launcher and install the item. If you want to install a lot of .Sims3Pack items at once, copy them all to (My) Documents\Electronic Arts\The Sims 3\Downloads   , manually open the The Sims 3 Launcher and navigate to the "Downloads" tab. Finally select all the items that you want to install and click on "Install". It will then install all the .Sims3Pack items at once.
Items in this month's Store Updates
---
Item name: march2011set (March 2011 Compilation)
Description: Get everything new for the month of March with just one click! This compilation includes Through the Spy Glass Bathroom, Futureshock Living, and Street Couture.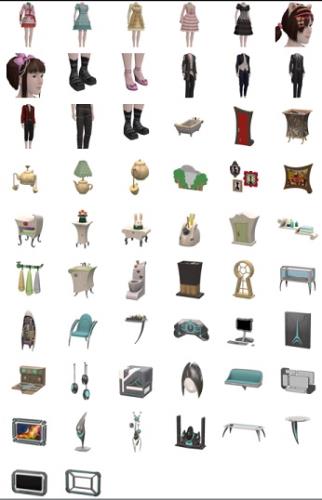 Includes the following items:
Super Cute Decora-tion
Who says you can't wear ALL your cute jewelry, buttons, and accessories at once?
Well, whoever they are, they aren't as cute as you.
Bountiful Bows Dress
Elegantly designed by world famous designer Pana,
this dress was once featured as a cover item in the style documentation magazine called VEGETAbLE.
Elegance Enhanced
Each bow on this dress was hand tied by master bowist Lillianne Eastwood.
Walk Bobita Walk
This dress is enhanced with a wired petticoat that leaves legs free for a leisurely stroll about town.
Remember, life is short so enjoy it!
Layered Victorian
Inspired by the Victorian era, this modernized version of a classic dress will truly confuse your Sim
as to what period in history they're actually in.
Hello Angel
Can't decide on wearing your new headband or fuzzy kitty ears? Not a problem.
With the style only you can pull off, none of your favorite hair accessories are left behind.
Dolly Darling
Delightfully sweet bows for sweet, life-like dolls.
Stompin' Boots for Her
Every girl should own at least 1 pair of good ol' stompin' boots!
Parfait Baby Cross Bow
Take dainty steps. Stand shy with your toes pointed inward. Baby, these bows never looked sweeter.
Fashionably Cutting Edge
This outfit is so sharp it actually cut itself!
Fashionably Cutting Edge
This outfit is so sharp it actually cut itself!
Tongue Tied
The humble tie, elevated from humble accessory to focal point of the outfit. It's about time!
Distinguished Deviant
An eye-turning ensemble to fool others into thinking you never took more than a few hours to put together.
Go on, let them stare while you pretend the exposed skin is no big deal.
Abundant Belts
With this many belts, there's no possible way these pants won't fit your Sim!
Stompin' Boots for Him
Every fellow should own at least 1 pair of good ol' stompin' boots!
Water Wonderland Bathtub
With a twist and a curl, this bathtub will welcome your Sim into a world of enchantment and cleanliness.
Door Within Door
This door not only admits fully and partially grown Sims,
it also provides convenient access for gnomes, fairies and door mice!
Almost Alive Hamper
This Hamper is so full of vibrant personality it seems ready to come to life at any moment….
which it won't, of course, because that would just be silly.
Too Literal Tea Ceiling Light
This Tea Light seems to take it's name just a little too literally…
Tea Time In Disguise Table Lamp
And then I realized the imposter had been in the house the whole time…
Two Scoops of Sun Wall Lamp
Do you like a little sunlight in your tea? Then this is the lamp for you!
Each cup comes with 2 scoops of partially dehydrated sunlight, just add electricity!
White Rabbit Mirror
Does your Sim possess the intellectual fortitude to resist the siren's call of the White Rabbit?
Chess Champion Paintings
Is your Sim a Chess master? Are they constantly on the look out for new and improved ways to rub everyone's nose in it?
Then they need this stunning collection of Chess piece paintings by famous artist Mecha Turk.
Curious Painting
It is said that curiosity often leads to trouble, but trouble is the best kind of fun, don't you think?
Off Kilter Cabinet
This cabinet is fairly peculiar, but I can't quite put my finger on what it is…
Formal Cabinet
This cabinet is all dressed up with no place to go.
Maybe your Sim will take pity on it and bring home the party instead?
White Rabbit Stepstool
Let your young Sims know they aren't alone by showing them the White Rabbit needs a stepstool too.
Happy Rabbit Toothbrush
This happy little rabbit makes sure your Sims toothbrushes are never late for an important date!
Slanted Cabinet
Oh, we forgot to tell you this Cabinet comes locked, but that's okay,
it's not as if your Sim lost their key…unless, of course, they did?
White Rabbit Shelf
Make sure you keep your rabbits away from each other,
you wouldn't want to end up with another problem like the tribbles….
Caterpillar Wall Hooks
This caterpillar might give your Sim good advice, but it probably won't make sense until it's too late to take it.
The Queens Sink
A sink fit for any queen, whether they be red, white or indigo!
The Queens Toilet
For every Royal Sim, there must be a Royal Throne.
Top Hat Trash
Just because it's a trash can doesn't mean it never had dreams of being something bigger and more glamorous.
Keyed Window
Get it? Someone totally keyed your window! Ha ha!
Alpha Waves Aquarium
An efficient receptacle to store your still-living aquatic creatures.
Billion Bandwidth Bookshelf
Print will never die when you have completely compatible shelves.
Linear Lounge
The android-mantis-like arms are not for deflecting, but for protecting comfort and the comforted Sim.
Capacitor Chronometer
This high tech clock will never leave your Sim wondering what time it is…in fact,
we're pretty sure with this clock your Sim will never be alone again!
MAL 2000
Whether you're exploring the reaches of space or just trying to improve your quality of life,
MAL 2000 will always be there….always.
Automated Access
Whether it's entering or exiting, this automated access point will always create the perfect aperture for your Sim.
Thermal Sanitarium
Each individual water molecule is heated to the scientifically proven ideal temperature for maximum Sim relaxation.
The bubbles provide no real benefit, but they sure are fun!
Mysterious Deep Space Pods
While in the depths of deep space, adventurers stumbled across these strange light-emitting pods.
They aren't sure what exactly spawned these, but we're almost certain they're safe for your Sims home!
Comrade Cube
Please note, we'd like to take a moment to remind you that the Comrade Cube cannot, and will not, speak.
It will, however, provide your Sim with hours of efficient household lighting.
Vertical Light Emitting Device
This device will emit light.
You may place it upon vertical surfaces, very efficient, the Vertical Light Emitting Device.
Linear Loveseat
The impractical nature of this loveseat only serves to remind you how futuristic it truly is.
Replicated Reflection
This mirror is not a true mirror at all, it's actually a screen with a built in camera that displays your Sims image!
Amaze and marvel at the usefulness of technology, even when it's completely unnecessary.
Celestialscape
Bring home your Sims space adventure with this classic space scape! Hopefully nothing…abominable hitched a ride back too.
Zero G Boomerang
Once it was proven that boomerangs functioned in Zero Gravity;
it became almost a fashion faux pas not to have at least one lying around just in case…
This ones a touch more decorative then functional, but even the future needs oddities!
Botanists Nightmare
Truly, some Botanists have been driven mad trying to categorize this plant.
They were always thrown off by how closely the buds resemble eyes…
X-J-4s0m3
Be careful turning up the volume too high, you wouldn't want to cause a rift in space time, now would you?
Linear Coffee Table
This coffee table promises the utmost efficiency for the storage of your Sims clutter.
Linear End Table
Have an end that is tableless? Well then do we have the deal for you! This table loves to be placed with an end!
Space Vector Modulating Television
Prepare your Sims mind to be filled with gooey digital knowledge. How can digital knowledge be gooey?
Frankly we were too scared to question…
Hermetically Sealed Window
Install these windows in your Sims house and we promise your fears of spaghettification will melt away.